Merino Sheep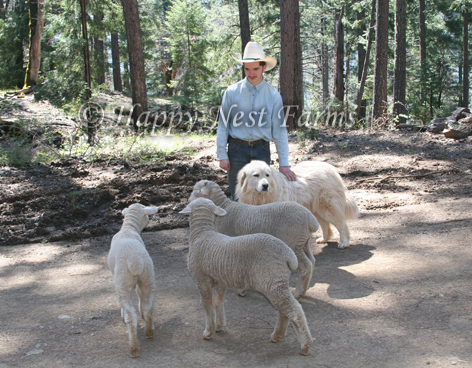 The Delaine Merino is a type of Merino sheep predominant in North America. It has fewer skin wrinkles than other types of Merino, but still has a fine, oily fleece. It is the most practical of the merino line and much easier to care for than those types with excessive folds. The productive life of the Merino is much greater than any other breed producing great fleece even at 10-12 years of age. The Rams can be either horned or polled and the ewes are polled.
The Merino traces its beginnings to Spain, where its fine luxurious fleeces dominated the European wool trade from the 14th to the 19th centuries. They were developed through centuries in creating the best fleece and were considered the "gold or money" of the country until Napoleon Bonaparte invaded Spain. Rather than allowing him to squander the breed they exported them and thus opened the way for their widespread use and interbreeding to promote better fleeces with other breeds. No other wool can compare with the wool of the Merino in its color, uniformity, strength, density, and fineness. Fleece should be from 2.5 inches to 4 inches long in one year's growth. It should be fine enough to grade from 64's in spinning count to as high as 80's and have a micron count of 17- 22.
The Merinos are known for their heartiness and their ability to flourish in extremes of weather and environment. Highly successful Merino flocks can be found from the rocky soils of New England to the lush pastures of the American mid-west to the arid outback of Australia. A special feature of the Delaine Merino Sheep is that they have a highly developed flocking instinct, which makes them good range animals and easy for shepherds and their dogs to herd from one location to another.
Colored Merinos are more rare and have taken time to develop. Most all Merinos are slight varied shades of white but with some special breeding lines they can come in Moorit (red), Black and Spotted colors. Natural color combined in soft, luxurious fleece is always a winner.
Here at Happy-Nest Farms we are blessed with both Delaine Merinos as well as a Colored Merino (black and split to Moorit) that have very rich fleece.
Copyright © 2018 HappyNest Farms.